Welcome to the Studio "C" home page!
Weaving audio sound patterns around your ears!
Professional studio recording, mixes and audio mastering!
Using my ears to satisfy your audio needs!
All About The Studio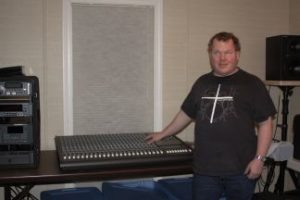 Welcome to the Studio "C" Webpage. I have tried to combine both the analog and digital recording experience, to ensure that my clients get the absolute best music production project possible. From here, you will be able to hear some audio samples of various studio sessions that I have played drums/percussion on, recorded, mixed and mastered, over the past thirtyy-two years. The studio is set up for twenty-four tracks. I primarily record Christian bands/soloists, and perform radio voice-over services for area businesses.
Essentially, the workflow goes something like this. I run the session from a high-quality, low-noise Mackie twenty-four channel analog recording console, into a high-quality twenty-four-bit Alesis digital Hard Disk recorder. The mixdown product goes directly onto CD, and then over to a PC, running both Sound Forge with Waves audio plugins.
Since I am visually impaired, from birth, due to receiving too much oxygen, which kept me alive, but did cause me to be the recipient of Retrolental Fibroplasia, now known as Retinopathy of Prematurity or ROP, I have had to try to locate a mix of analog/digital recording gear, such as the Mackie 24-8 recording console, however, I also use an Alesis HD-24XR. This particular recording console isn't made anymore, but, you can see others like it here. I also use:
DBX 160A compressors and DBX 1066 compressor/gates and a host of Behringer, ART, Aphex, Audio Logic, and Tascam, signal processors. I tend to lean towards microphone selections by: Audio-Technica, Shure, Sennheiser, and Studio Projects.
Back in 1987, a fellow Recording Engineer, Michael Pepin gave me a chance to learn my craft, and I truly appreciate his tremendous time, energy and patients. I would not be able to do what I am now very well equipped to do without his awesome dedication and support.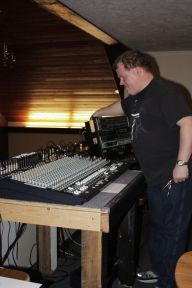 I would like to provide a bit more information about some of the additional studio gear that I use…
The awesome sounding Sony MDR-7506 headphones, the very accurate Mackie HR-824 studio Reference monitors! kickin' drum sounds from the Alesis SR-18, acoustic drums from both Tama and Yamaha.
Much of my studio setup was purchased directly from the very knowledgeable team over at Sweetwater. I have worked with a lot of studio and sound companies in the past but, these folks get it right, the first time… Their audio Sales Consultants are absolutely the best!!
I enjoy assisting fellow Musicians to "really get that sound!" The studio has the ability to record a total of twenty-four simultaneous audio tracks, thus ensuring that you and the project Musicians will be able to really rock.
It is worth noting: I do indeed accept several forms of payment, including payment through the PayPal service. My standard fee for service is $50.00 per hour. If you wish to set up a time to consult with me, and you find that PayPal's payment options meet your needs, I am more than happy to accommodate… If you choose to use this service, and it directs you out to a PayPal site for Seeing Hands Enterprises, this is quite normal, as it is in fact, our parrent company…
If you would enjoy reading about how I started in music, played a bunch of music, left music, and finally came back to music, then please check out
Roger Cusson Music Bio.
If you are unable to access this document, you may need
the free Adobe Reader software package.
If you are interested in pricing information or in discussing a possible recording project, I would really enjoy hearing from you.
Sample Audio Mixes
Below, are a few completed session mixes from the studio. This way, you can hear just exactly what the finished product sounds like. I am quite confident that I can provide either you or your band, with a truly exceptional final audio product.