Welcome to the pizza home page!
So much pizza, so little time!
Let's talk pizza!
Pizza may be good for you!
I'm getting hungry, are you?
Yes, I admit it, I do enjoy a good pizza with many toppings. I have been to probably 140 various pizza places in the state of Maine. I do travel extensively, both for my work as a Computer Access Specialist and playing drums in the band that I am currently involved with. Providing some sort of Audio Engineering service for a special function is also a good excuse to stop off, and get a nice piping hot and loaded pizza, before the show or event.
Some of my favorite toppings include:
Green Peppers,
Onions,
Mushrooms,
Tomatoes,
Pepperoni,
Meatballs,
Hot Italian Sausage!
I have been known to travel hundreds of miles, just to partake in what folks in a designated specific area refer to as: "the best darn pizza" in these here parts.
I will most likely report on several of those places, and provide links to them, in a future update. In my non-medical experience, pizza or at least my kind of pizza, does meet and possibly exceed all of the four major food groups.
---
Pizza Preferences Form
Please consider letting me know your particular pizza preferences…
---
Unscientific Results!
OK, well, after giving it much thought; about forty-two seconds or so, I have decided to try to list my top ten favorite pizza places in Maine. This is kind of difficult, as they are all quite good but, here is where we attempt to separate the wheat from the chaff…
We also have an honorable mention Portland Pie Company in Portland Maine.
Lisbon House of Pizza – (Lisbon, Maine),
George's Pizza – (Auburn, Maine),
Amato's Pizza – (Brunswick, Maine),
Pizza Market – (Auburn, Maine),
Sam's Italian Sandwich Shop –
(Lewiston, Maine),
Romeo's Pizza – (Yarmouth, Maine),
Ricetta's Ristorante – (Falmouth, Maine),
Greco's Pizzeria – (Lewiston, Maine),
Pat's Pizza – (Auburn, Maine),

and in my opinion, and I guess that's just exactly what it is, as I am the one who has killed or seriously injured a whole bunch of electrons by having written this site; the best pizza in Maine is made by:

the fine folks over at Angelo's Pizzeria!!! – (Lisbon/Lewiston, Maine)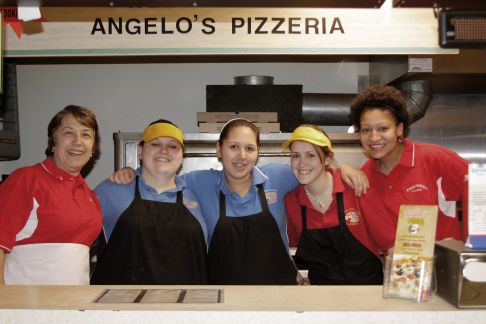 It was sure a fun exercise trying to come up with a fair list. There are so many good pizza places in Maine, that it was very tough to decide… If you might like to visit any of these above mentioned pizza places, and perhaps actually go so far as to invite me along, Send up a message
Thanks so much for stopping by, and I wish you a truly blessed day!