Welcome to the Seeing Hands Enterprises home page!
Assistive Technology Specialists since 1999!
Providing professional high-quality computer training and technical support services!
Your satisfaction is guaranteed!
All About Seeing Hands Enterprises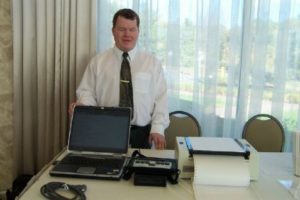 How it all started!
Life is what you make of it; I just happen to be visually impaired, and just happen to have been blessed enough to be able to own/manage a Computer Access Technology training/consulting company, Seeing Hands Enterprises. After I completed work assignments for both Microsoft and Dell Corporation, I had absolutely no idea what to do with myself. A truly fabulous individual that worked as a Supervisor for the State of Maine's Division for the Blind and Visually Impaired agency, suggested that I take a look into the option of offering my IT/technical support and training services to visually impaired folks, sighted folks and area businesses.
DBVI hired me, lets see now, it has been about eightteen years now, and students do receive the best Assistive Technology/computer instruction that I can possibly offer them. The department Supervisor was very creative in his thought process, and came up with the idea that the State of Maine needed to find a creative way to get qualified visually impaired folks back to work, to train other visually impaired folks so, that they could —- go to work! This all Sounded like a good idea to me. I had already been working, and still continue to work teaching visually impaired folks, sighted folks, companies, and anyone else wishing training on many of today's popular applications, plus providing IT-related computer support for individuals and businesses.
While working at a Maine-based Microsoft technical support call center, my job was that of an Escalations Supervisor. Basically, our team was the "fix-it team!" We were there with the idea that if a customer called in, needing advanced Internet technical support, and no one else could solve their problems, our job was to make sure the problem was completely solved to the customer's satisfaction! These days, I still get to fix many esoteric computer and iPhone issues. So far at least, I am still undefeated!!
A quote to live by: "Any program that works perfectly, simply hasn't been tested properly!"
Seeing Hands Enterprises is, and will continue to be, a company that specializes in the training and implementation of Assistive Technology products for visually impaired individuals. Assistive Technology is any piece of hardware/software, that enables someone, in my example, with a visual impairment, to access either mainstream or specialized programs or computer-related devices.
Audio and Braille Transcription
One facet of my company that might interest some, is the audio/Braille transcription service. If you have a restaurant menu, important legal document, textbook, classroom handout or any time-sensitive written materials, and you need it converted into either an audio CD/MP3 or Braille formatted document, then please contact me with any questions that you may have. Since transcribing written documents into audio/Braille makes many documents accessible for the visually impaired, it is surely something to consider.
ADA Compliant Signage
I am also able to offer an ADA compliant sign service. Many businesses or entities want to make their facilities accessible to all individuals. I provide both hard plastic and aluminum ADA compliant signage. The signs can be ordered for almost any situation, and come in standard Grade II non-destructive Braille, and large print. I have Many sizes and colors to choose from.
Technology, oh Technology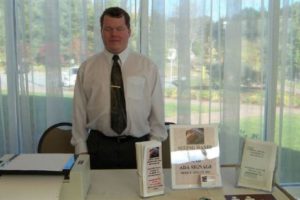 Some examples of Assistive Technology at work would be, a screen-reader. JAWS for Windows, which is software that allows the visually impaired user to have full and unlimited access to the Windows environment. JAWS takes in the visual on-screen information from either the Operating System or particular software program, and then outputs that visual information, in an easy-to-use interface, with a clear and mostly natural sounding synthesized voice. With JAWS, the user has complete control of both the screen-reader software and the desired application, all from the computer's keyboard. There are even specific mouse emulation keyboard commands, to facilitate easy access to clickable on-screen elements.
Another example of Assistive Technology might be an Apple iPhone. The iPhone, although a very common mainstream device, just happens to have a very powerful built-in screen-reader of its own called, VoiceOver. The iPhone is a very powerful device and has many applications that work well with VoiceOver. For folks that do still have some limited vision, but are finding it increasingly difficult to clearly see what is on their computer monitor, there is a truly great screen-magnification tool, MAGic! One final example of the awesome technology at work for the visually impaired computer user is, OpenBook OCR software. Optical character recognition software can take a high-quality picture of the printed materials, pages from your favorite book, newspaper, PDF document, Fax or virtually any printed matter, and convert that printed text into an accessible audio format. You can then use the OCR's computer interface, to easily read and navigate the text.
This is by no means a complete list of Assistive Technology software. I just wanted to give you a few packages to be aware of. I definitely do teach on these, and many other Assistive Technology products, however. Our new Resources page has much more detail on Assistive Technology packages as well as a long list of screen reader compatible programs and apps for Windows.
It is worth noting: I do indeed accept several forms of payment, including payment through the PayPal service. My standard fee for service is $50.00 per hour. If you wish to set up a time to consult with me, and you find that PayPal's payment options meet your needs, I am more than happy to accommodate…
Some other mainstream products that I can teach on are:
Microsoft Office 2010, 2016 and 2019
Internet Explorer 11
FireFox (any version),
Accomplish CashManager small business accounting software,
Dragon NaturallySpeaking 11.0,
Nero Multimedia products,
GoldWave audio mastering products,
Sony Sound Forge audio mastering products,
and all flavors of Windows.
Those nasty viruses/malware!
I also can perform virus and malware removal services. Many of today's PCs are powerful, however, sometimes a slowdown can happen. I have over ten years experience in removing these nasty computer obstacles. If you should need PC diagnostic services, I can also assist you in getting your machine running as it once did.
Much of my training and computer support services, I can in fact perform remotely, which means that you and I have the option of choosing whether I work from my location or yours. It is completely up to the customer on how they wish to have me perform any of the above mentioned tasks.
Contacting me!
If you think that you might possibly enjoy reading a bit more about my employment qualifications as a Computer Access Specialist, then, please check out
Roger Cusson Résumé – Feb, 2017
If you are unable to access this document, you may need
the free Adobe Reader software package.